For anyone wanting to know how to start affiliate marketing as a beginner, this article explains the process by which it is possible to accomplish when done the right way.





Either as a side hustle or a main income source, becoming an affiliate marketer has a number of benefits. The aim is of course to generate an income from your efforts.

A common question is, "How much work does a person need to put in for this type of marketing to become profitable?"

The simple answer is that it depends on how much a person wants to get out of their work. In basic terms, this means the more you put in, the more you should expect to get out!
Starting as an Affiliate
There are many ways to get started with affiliate marketing. The most important thing is to find a method that works for you and your goals.

One way to get started is to join an affiliate program, such as Clickbank, JVZoo, Warrior Plus or Amazon Associates, for example.

Once you have joined one or more of these, you will be given a unique affiliate link. This link can be used to promote products and services on your website or blog.

Another way to get started is to sign up for an affiliate network. These networks connect advertisers and publishers, and provide tools and resources to help you succeed.

Finally, you can also contact companies directly and ask if they have an affiliate program. This is often the best way to find high-quality products and services to promote.
Why Affiliate Marketing is a Great Opportunity for Beginners
Affiliate marketing is a great opportunity for beginners for a number of reasons.

First, it is a relatively easy way to get started in the online marketing world. There are a number of affiliate networks and programs that allow you to get started quickly and easily.

Second, an affiliate marketing system can be a great way to make some extra money. If you are able to find the right products and promote them effectively, you can earn a nice commission on each sale.

Finally, affiliate marketing is a great way to get exposure to a variety of products and companies. By promoting a variety of products, you can reach a wider audience and build up your reputation as an expert in your field.
What Affiliate Marketing Is and How it Works
Affiliate marketing is a type of performance-based marketing in which a business rewards one or more affiliates for each visitor or customer brought about by the affiliate's own marketing efforts.

The industry has four core players: the merchant (also known as "retailer" or "brand"), the network (that contains offers for the affiliate to choose from and also takes care of the payments), the publisher (also known as "the affiliate") and the customer. The market has grown in complexity to include a large range of players, including specialized third party vendors, super-affiliates, and managed affiliate programs.
How Does Affiliate Marketing Work?
The merchant first creates a product or service and then recruits affiliates to promote it for a commission.

The merchant can either provide the affiliates with their own unique affiliate links or banners to use or allow the affiliates to create their own. Once the affiliate has been recruited, they promote the merchant's product or service on their own website or blog and receive a commission every time a sale is made or a lead is generated.

Affiliate marketing is a very popular and effective way to make money online. There are many different types of affiliate programs and a wide range of products and services to promote.

Becoming an affiliate can be a great way to earn a full-time income or supplemental income.
How to Find Affiliate Programs to Join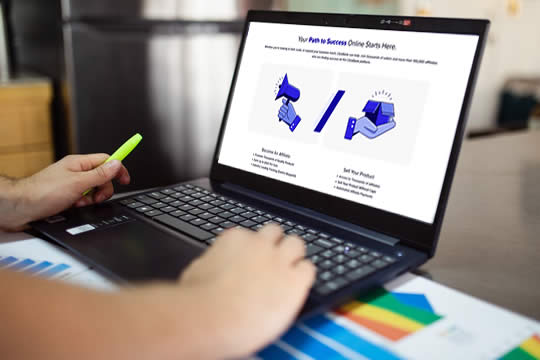 There are a few ways to find affiliate programs to join.

The easiest way is to do a Google search for "affiliate programs" + the product or service you're interested in promoting.

For example, if you wanted to promote books, you would search for "affiliate programs books." This should bring up a list of potential affiliate programs to join.

Another way to find affiliate programs is to join an affiliate network. These networks connect merchants with affiliate programs that they can promote.

They also provide tools and resources that affiliates can use to improve their performance. Networks to consider include Commission Junction (CJ), Linkshare and Shareasale.

Finally, you can also contact merchants directly and ask if they have any affiliate programs that you can join. Many merchants run their own affiliate programs and would be happy to have you on board.

No matter which method you use to find affiliate programs to join, be sure to do your research before signing up. Make sure the program is a good fit for your site and your audience.

Be sure to read the terms and conditions carefully to make sure you understand what you're agreeing to.
How to Promote Affiliate Products
There are a few things to consider when promoting affiliate products.

First, consider the product itself, what it is and how it would be attractive to prospective buyers.

Is it something you believe in and would recommend to others? If not, it may not be worth your while promoting unless there is a large commission structure that would make it highly lucrative regardless of your feelings toward it.

Remember, the aim is to make money!

Second, think about your audience. Who are you promoting the product to? Is this a group of people who are likely to be interested in the product? If not, decide if it's worth promoting and if there is a potential customer base for it.

Finally, think about your own interests. Are you promoting the product because it's something you're interested in or because you stand to make a good commission?

Look at the pros and cons of the product from a customer standpoint and decide if it is something you feel comfortable promoting.
Common Mistakes Beginners Make in Affiliate Marketing
There are a few common mistakes that beginners make when they first start affiliate marketing.

One of the biggest mistakes is thinking that they can just promote any old product and make a commission. In reality, it takes a lot of hard work and dedication to be successful in affiliate marketing.

Another mistake that beginners make is not tracking their results. It is important to track which ads and promotions are working and which are not. Without tracking, it is impossible to know what is working and what needs to be improved.

Finally, many beginners give up too easily. It takes time and effort to be successful in affiliate marketing. If you are not seeing results right away, do not give up. Keep trying different strategies and eventually you will see success.
Tips for Success in Affiliate Marketing
There are a few key things to keep in mind if you want to be successful with affiliate marketing.

First, you need to find a niche that you are passionate about and have some knowledge of. This will help you build a strong foundation to work from.

Second, you need to be patient and persistent. Affiliate marketing is not a get rich quick scheme, so you need to be willing to put in the time and effort required to see results.

Finally, you need to be creative and think outside the box. There are a lot of ways to promote affiliate products, so don't be afraid to get creative.

With these tips in mind, you should be on your way to success in affiliate marketing.
Summary
The rewards of becoming an affiliate marketer are plentiful as long as you are prepared to put in the work to produce a good quality promotional project that will place the product before customers.

As a means of making money, especially online, there are few more lucrative options than selling lots of products for good commissions. Even as a beginner, it is possible to make money from affiliate marketing with the only real limitation being your own work ethic and determination to succeed.

[BACK TO TOP]

Posted on Mon October 17, 2022 in Make Money Online | 0 Comments